We've all heard the occasional story where a person defies the normal and uses his or her mind to overcome what we think of as physical limitations.  The mind can block physical (and emotional) pain.  It can give someone "super-human strength".  It can regulate core body processes like temperature control.  Even though these stories don't happen everyday, if we look closely, we can see what's possible and train our minds to do what seems impossible.
The Ability to Block Pain
Some of the most interesting stories about the mind's ability to block or regulate physical pain come from patients who chose to undergo surgery without anesthesia for one reason or another, and who managed their pain by using breathing or meditative techniques or hypnosis instead.
https://www.youtube.com/watch?v=RfBpQQY78Fc
The Ability to Perform SuperHuman Acts
"Hysterical strength" is the term used to describe those situations where people display uncommon acts of strength, usually when they're in a life or death situation. Here are some examples:
Scientists believe these acts of amazing strength happen when intense emotion (i.e., fear) signals neurons and the adrenal glands to release epinephrine (or adrenalin). Epinephrine increases blood flow to muscles, increases the output of the heart, and dilates the pupils.  Increased blood flow to the muscles floods the muscles with the hormones and nutrients it needs to perform at its best.
The Ability to Regulate Autonomic Processes
The body has a long list of autonomic processes – those activities it carries out all the time that are normally not under your conscious control. Examples include breathing, digestion, immune system activities, temperature regulation, etc.  But can you bring them under conscious control and use the ability of your mind to improve your physical condition?  There are people who have done exactly that.
A. Breathing
We've already touched on the ability to control your breathing which can help with blocking pain sensations, improving focus, reducing anxiety, and improving the immune system, to name a few benefits. Remember Yonah Offner who regulated his breathing to 3 cycles per minute?
B. Digestion
We all know that our thoughts and emotions can have a profound effect on our digestive system. How many times have you gotten really upset, and the first place you feel it is with an upset stomach (or nausea or acid reflux or irritable bowel)?  And while it was determined that H. pylori was the cause of most stomach ulcers, a 2003 study showed that, while nearly all peptic ulcer patients have H. pylori, only a small number of people with the bacterium get peptic ulcers, suggesting that some other factor, maybe psychological, might be necessary for H. pylori to cause ulcers. Several studies, in fact, have shown that this other factor might be chronic anxiety. The study has found not only a statistically significant link between chronic anxiety and peptic ulcers in a large population sample, but a connection between the amount of worrying people do and their risk of peptic ulcers.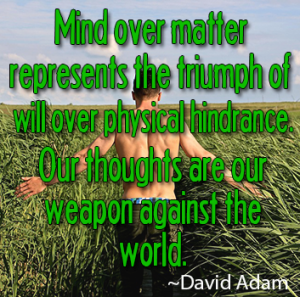 In fact, your gut has its own nervous system called the "second brain" or "enteric nervous system" (ENS), and it communicates with your brain in a two-way fashion.  There is a higher incidence of irritable bowel syndrome among people with anxiety and depression, and it's thought that one might contribute to the other.  In fact, a review of 13 studies showed that patients who tried psychologically based approaches had greater improvement in their digestive symptoms compared with patients who received only conventional medical treatment.  Additionally, another study on mice showed that by switching one group of mice's gut bacteria with those from another group, it led to changes in the behavior of the 2 groups. There is mounting evidence that indicates gut bacteria influence behavior and psychological states.
C. Immune System
Studies have shown that the mind can enhance the immune system's functioning:
D. Temperature Regulation
There are also plenty of examples of people using their mind to consciously control the internal temperature of their bodies. Here are a couple of them:
Tips
When I think about the people here who went beyond what we normally think of as limits with regard to our physiology, I wonder "What other limits do I just accept as the laws of nature that may, indeed, not be limits at all except in my mind?  I always think, "If it's possible for him/her, then it's possible for me, too.  Even if I can't find an example of someone who has done what I want to do, I think, "Great!  I'll be the first!"
What do you think? Share your opinion in the comments below.